Starr gets official invite to NFL Combine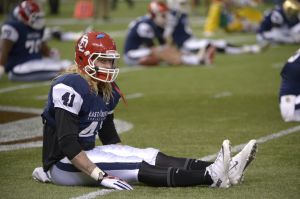 February 07, 2014 10:00 pm
•
Editor's note: This is the second in a series of stories that will follow South Dakota linebacker Tyler Starr as he prepares for May's NFL Draft.
The kid from Little Rock, Iowa, with the long, flowing locks should soon be playing football on Sunday afternoons.
When we last touched base with Tyler Starr, the 6-foot-5, 250-pound linebacker from the University of South Dakota, he was preparing for the East-West Shrine Game, an invitation-only all-star contest for the top players at all levels of college football.
Starr, wearing No. 41 for the West squad coached by former NFL head coach Romeo Crenell, saw plenty of action in the game played at Tropicana Field in Tampa, Fla., last month.
The former Coyote All-American played on all special teams and got about 25 reps on defense. More importantly, Starr turned plenty of heads in the week of practice leading up to the game.
Bloggers, some of whom had probably never heard of the University of South Dakota, gave rave reviews of the relentless Starr. NFL scouts were equally impressed, so much so that Starr received an official invitation to the NFL Combine set for Feb. 21 in Indianapolis.
"It went well," Starr said in a phone interview this week. "The game was kind of boring because you can't really get into a competition level of playing when you can't get enough reps. But it was a good experience playing with different types of players from all over."
Starr's roommate at the Shrine Game was Prince Shembo, a linebacker from Notre Dame. During the week, he hung out with other big-name guys at his position like Devon Kennard from USC and Max Bullough from Michigan State.
"We talked about our seasons, just kind of hung out and chit chat," Starr said.
The day after the Jan. 18 game, won by the East 23-13, Starr left for Nashville, Tenn., where he's training daily at D1 Sports, one of the nation's foremost facilities for athletic-based scholastic and adult training programs, expert coaching and the latest in sports therapy.
Starr first received an e-mail and two days later a call confirming his invitation to the NFL Combine.
"I'm just glad to be a part of it and happy to have the opportunity," Starr said. "I'm trying to take it one day at a time and when I get there (Indianapolis) just be relaxed, be myself and perform like I trained for. I want to do what I I've been training to do this whole time and execute what I have to."
Depending on what website you find, Starr is ranked anywhere from No. 16 to 22 among outside linebacker prospects. He is projected as a sixth or seventh-round pick in the NFL Draft in May.
"Quite a few teams were checking me out down there so there's definitely interest," Starr said. "It's definitely good to have that good vibe out about me anyway.
"It shows that people realize that athletes at all levels can go (NFL). I'm just going to focus on the here and now and hopefully it plays out the way it's supposed to."
Starr was one of seven linebackers on the West team at the Shrine Game. The 22-year-old George-Little Rock High School graduate was the Missouri Valley Conference Defensive Player of the Year and finished ninth in the balloting for the Buck Buchanan Award for the top defensive player in the Football Championship Subudivision (FCS).
He was named to several All-America teams after finishing a star-studded USD career in which he racked up 196 tackles – including a school-record 27 sacks – and forced 13 fumbles.
Starr was one of 35 linebackers invited to the combine, among those University of Iowa's James Morris, Anthony Hitchens and Chris Kirksey, as well as Jeremiah George of Iowa State. Over 300 college players will be showcasing their talent for NFL personnel.
The NFL Network will televise the combine live the week of Feb. 19-25 at Lucas Oil Stadium.